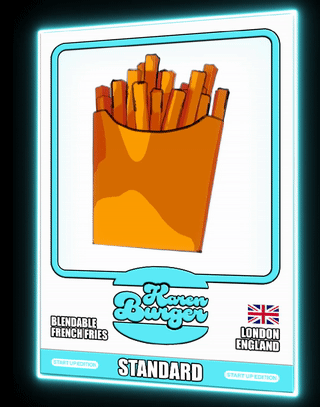 Karen is looking for inspirational franchisee's who share the Karen Burger vision and want to help her take the brand global by starting small and thinking big! Join us for the ride and don't forget to check out Karen's FAQ.
In development for 12 months, Karen Burger is finally ready to serve its tasty fast food to the world! But like any fledgling Start Up, we have to start somewhere, so let's begin the story of our burger empire in London UK.
Karen Burger Start Up Edition features three grades of Food Vans and Restaurants, unpack Meme'd WAXNFTs to get the highest hourly/daily rates during the Staking Period.
Pre-loaded with 2,500 WAXP +500 from our Promo Drop, our dedicated facility on WAXDAO is ready for some hot burger action with staking rates between 0.01/0.2 WAXP Per hour.
All franchisees who participate and blend at least one Restaurant during the Start Up Edition will receive loads of free stuff, get Meme'd to receive some additional cool bespoke 1/1 WAXNFTs.
*Whilst stocks last, limited to one per account. WAXNFT must be claimed at the point of purchase from a dedicated drop while holding the five packs in your wallet